NeuroSensory Center Staff
Our staff, including a neurodevelopmental optometrist, a vision therapist, neurosensory specialists, R.N.'s and L.P.N.'s, and diagnostic technicians, serve patients with disorders including, but not limited to:
Dizziness, Vertigo, Chronic Headaches, Migraines, Dyslexia, Sensory Integration Disorders, Post-Concussion and Head Injury, ADD/ADHD and Autistic Spectrum Disorders.
Dr. Jeffrey Becker, O.D.

Director of Vision Services - Dr. Becker is a 1978 graduate of the Pennsylvania State University and graduated from The Illinois College of Optometry in 1983. He has been practicing in Northeastern Pennsylvania for over 26 years, with a specialty practice in Rehabilitative Optometry. He is the Director of Vision Rehabilitation at the Neurosensory Center of Eastern Pennsylvania, and is a consultant to the Pediatrics Department at John Heinz Rehabilitation Hospital and Progressive Health in Pennsylvania.
Dr. Becker, in his 26 years of clinical and research experience, has examined and treated over 3000 head injury, stroke, and neurologically-impaired patients ranging in age from birth to senior citizens. Dr. Becker is trained in theDefeat Autism Now! approach and has lectured internationally about vision therapy, autism and rehabilitation for head injury and stroke patients. Dr. Becker has authored articles about vision therapy and contributed to the newest book, "Cutting Edge Therapies for Autism." He is also a consultant to several government agencies and works closely with other professionals who treat neurosensory disorders.
Sheila Becker, R.N.

Director of Nursing - Sheila Becker is a 1974 graduate of the Geisinger Medical Center School of Nursing. She has worked in the ICU/CCU at Bethesda Hospital in Chicago, IL, where she developed a home rehabilitation program for post coronary patients. She has also worked with Wayne Memorial Hospital in Honesdale, PA, Bayada Nurses, and Heartland Home Healthcare in Bradenton, FL, where she provided home care to patients. She has extensive knowledge and experience treating patients with Downs Syndrome, genetic heart and lung defects, diabetes, coronary artery disease and strokes, TBI and epilepsy. She continues her education with numerous seminars and workshops dealing with nutritional concepts for NeuroSensory disorders, and all aspects in the treatment of ASD from childhood through adulthood. Sheila is trained in the Defeat Autism Now! approach and for the past seven years, has helped families with children on the spectrum to understand, cope, and find ways for recovery. She is also certified by NeuroSensory Centers of America in the use of the Sensory View Diagnostic System.
Nicole McAfee, L.P.N.

L.P.N. - Nicole McAfee graduated president of her class from Wilkes Barre Area Career and Technical School of Nursing where she earned her degree as a licensed practical nurse in 2013. Since 2008 Nicole has experience working with individuals with intellectual disabilities, as well autism, and has served as a job coach and community support worker for these individuals as well. She has also been certified as a nursing assistant for 10 years, working with the geriatric community in skilled nursing settings as well as private and home care. She is a team leader and is always thinking of a way to give back to the community with her lengthy list of volunteering and donating all year round. Nicole is an important part of our team here at the NSC, and besides sharing her nursing expertise, she is also certified by NeuroSensory Centers of America in the use of the Sensory View Diagnostic System. She will go above and beyond her duties to help our patients achieve success.
Paula Chaiken

Outreach Coordinator - Paula Chaiken is the Outreach Coordinator for The NeuroSensory Center of Eastern Pennsylvania. In this role, she arranges programs and events for the Center and helps to spread the news about all the great things the doctors and staff of the NeuroSensory Center are doing for the patients. A summa cum laude graduate of Duke University with an A.B. in English, Paula also has masters' degrees in Human Services Administration and Teaching. She attended the Defeat Autism Now! Conference in the Spring of 2008 and volunteers with Generation Rescue. If your group is interested in having a presentation by the doctors of the NeuroSensory Center, please contact Paula at outreach@keystonensc.com.
Lyndsey McGrevy

Vision Therapist - Lyndsey is a 2008 graduate of Bloomsburg University where she earned a Bachelor of Science in Education, with concentrations in Special Education and Deaf Education.   Lyndsey has been working with individuals with Neurosensory needs for many years; generally one on one, administering varying forms of therapy to children and adolescents with ASD and specific learning disabilities.  Lyndsey has had substantial experience teaching reading and creating lesson plans for students of all abilities. She volunteers with Special Olympics and Miracle League, is fluent in American Sign Language, and is very adept in working with individuals who are on the Autism Spectrum.
Chelsea Cardillo, RT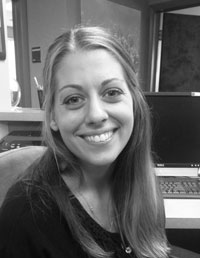 Diagnostic Technician - Chelsea is a 2009 graduate of Wilkes-Barre General School of Radiography and a 2011 graduate of Geisinger School of Phlebotomy. After graduation from Wilkes-Barre General, Chelsea became a registered Radiologic Technologist with the ARRT and State of Pennsylvania. Chelsea has an extensive history working with children and adults with Intellectual Disabilities. A point of pride for her was teaching Autistic children water and pool safety while teaching them swimming skills, through the Pittston YMCA and the Earthly Angels Autism Foundation. Chelsea is a helpful and friendly person who will go the extra mile to ensure patient care and bring a smile to our patients' faces!